Delicious Vegan Meals for Dinner Parties or Your Next Holiday Celebration
Whether you're having friends and family over just because or if you're celebrating an upcoming holiday or celebration, there are countless mouthwatering vegan dishes you can make that will satisfy both vegans and non-vegans alike. From tempting appetizers to hearty main courses, you'll discover a world of exciting vegan party food recipes that will have your guests raving about your culinary skills. The kicker is you'll also be introducing people to plant-based options that support the fight against climate change, keep our planet happy, and taste amazing.
Key Takeaways
Plan the perfect vegan dinner party with delicious meals, dietary restrictions in mind and an inviting ambiance!
Get creative with starters and appetizers.
If hosting and cheffing up a unique menu for a vegan party seems daunting, you can always leave the menu to someone else. PLNT Burger, for instance, offers many vegan catering packages to suit every event.
Planning a Vegan Dinner Party
Thoughtful planning lays the foundation for a successful vegan dinner party. Take into account facets such as:
Menu choices
Accommodation of dietary restrictions
Ambiance
Weaving vegan dishes into traditional holiday celebrations
Menu Planning
A balanced and indulgent vegan dinner party menu can be curated by incorporating a variety of dishes that appeal to diverse tastes and preferences. Incorporate appetizers, main courses, side dishes, and desserts to ensure a satisfying dining experience.
Look for food recipes that showcase the versatility and richness of plant-based ingredients, and don't be afraid to experiment with new flavors and textures.
Dietary Restrictions
In the process of planning a vegan dinner party, keep in mind the dietary restrictions of your guests. Beyond eliminating animal products, be mindful of catering to other dietary limitations like gluten intolerance, low sodium requirements, or nut allergies. Consider including some gluten free options to accommodate those with gluten sensitivity.
Make sure to communicate with your guests in advance, and be prepared to make adjustments to your food recipes to ensure a delightful experience for everyone.
Setting the Ambiance
Crafting a welcoming atmosphere for your vegan dinner party is crucial to ensure your guests' comfort and enjoyment of the meal. Use decorations that reflect the vegan lifestyle, such as lush plants, vibrant flowers, and eco-friendly natural materials.
Uplifting music and delicious vegan-friendly snacks can set a peaceful and welcoming atmosphere. A beautifully set table with fresh veggies and mouthwatering dishes will leave a lasting impression on your guests.
Planning Around a Holiday Celebration
Weaving vegan dishes into traditional holiday festivities can be a thrilling and rewarding experience. Choose dishes that align with the theme or flavors of the holiday, and consider offering vegan alternatives to classic holiday favorites.
Your guests will appreciate the effort you've put into accommodating their dietary preferences while keeping the festive spirit alive.
Vegan Starters and Appetizers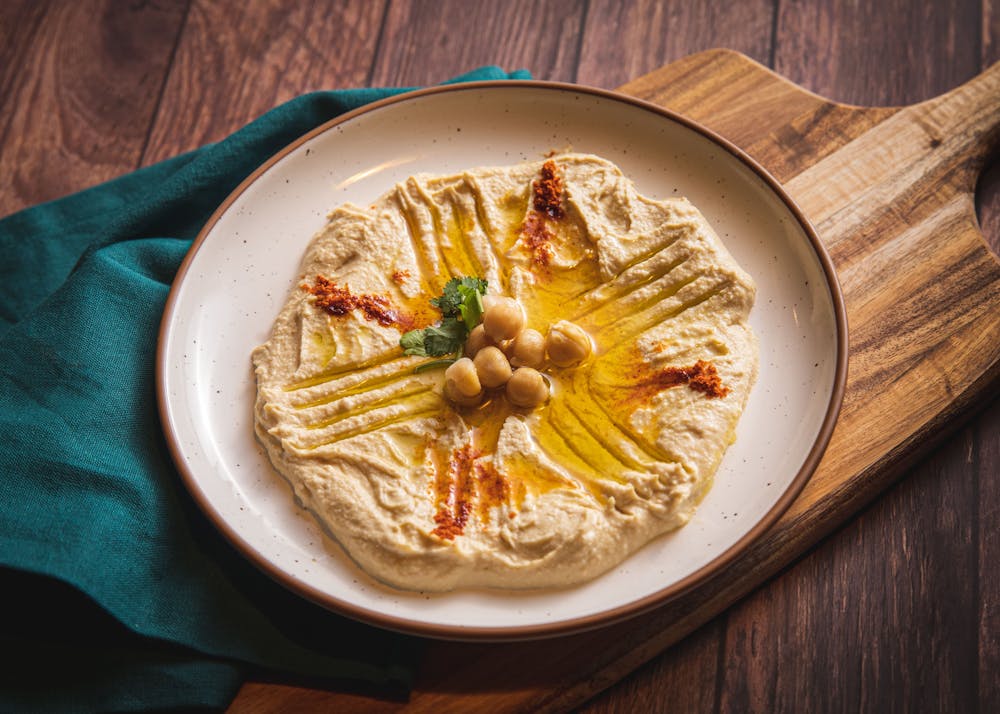 Kick off your vegan dinner party with delightful vegan party foods, such as starters and appetizers that will leave your guests craving for more. From stuffed mushrooms to vegan caprese salad and roasted red pepper hummus, these dishes are perfect for whetting the appetite and setting the stage for the main courses to follow.
Stuffed Mushrooms
Stuffed mushrooms are a scrumptious appetizer that can be the star of your vegan dinner party. These little bites of heaven are made by stuffing mushrooms with a flavorful mixture of herbs and breadcrumbs. The result is a perfect finger food that's both delicious and easy to prepare.
Imagine your guests' faces as they bite into these tender, juicy finger foods!
Vegan Caprese Salad
A vegan twist on the classic Italian caprese salad, this dish features dairy-free mozzarella, ripe tomatoes, and fragrant basil. Drizzle with olive oil and a splash of balsamic vinegar, then sprinkle with salt and pepper for a refreshing and delicious appetizer.
This simple yet elegant dish is perfect for showcasing the vibrant colors and flavors of fresh veggies.
Roasted Red Pepper Hummus
Upgrade your hummus game with this flavorful roasted red pepper version. Made by blending roasted red peppers with chickpeas, garlic, tahini, olive oil, and lemon juice, this hummus is not only delicious but also packed with nutrients.
Serve with pita chips, tortilla chips, or fresh vegetables for a crowd-pleasing party appetizer that will quickly disappear from the party table.
Vegan Main Courses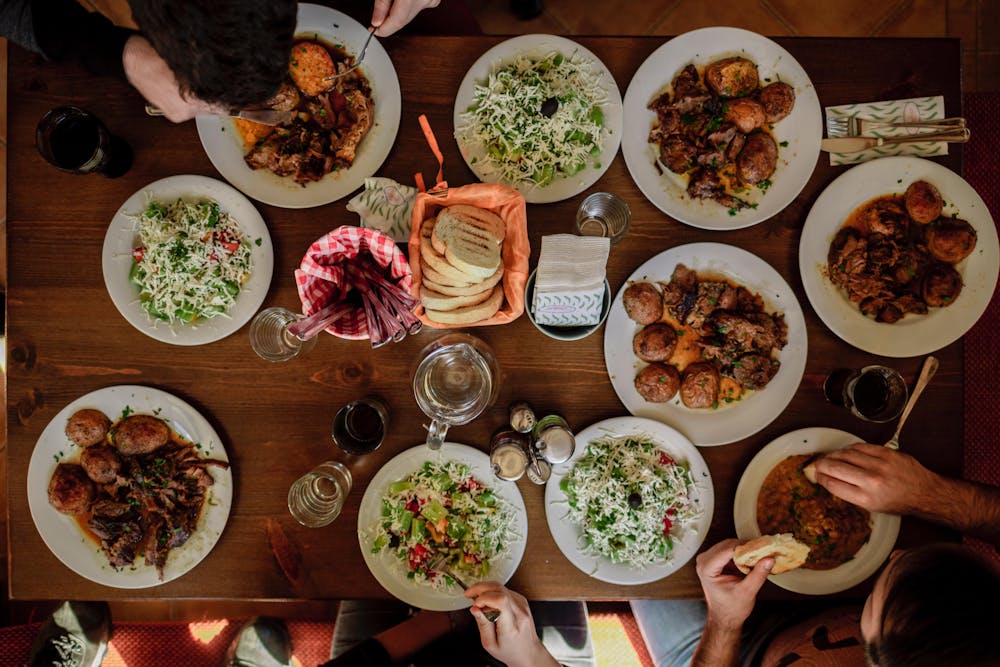 With your guests' appetites piqued, it's the perfect moment to dazzle them with fulfilling vegan main courses. Dishes like eggplant parmesan, lentil mushroom stroganoff, and stuffed bell peppers showcase the versatility and abundance of plant-based ingredients.
These dishes are sure to leave even the most ardent carnivores raving about your culinary prowess.
Eggplant Parmesan
This vegan version of the classic Italian dish features breaded eggplant slices and dairy-free cheese. Tender eggplant slices are coated in breadcrumbs, fried to golden perfection, and then baked with marinara sauce and vegan cheese. For a fun appetizer, you can also try making a vegan cheese ball to serve alongside this delicious main course.
The result is a deliciously satisfying main dish that will have your guests asking for seconds.
Lentil Mushroom Stroganoff
A hearty vegan main course, lentil mushroom stroganoff combines the earthy flavors of lentils and mushrooms with a creamy sauce. Prepared by sautéing onions, garlic, mushrooms, and lentils, then simmering in vegetable broth and tomato paste, this dish is both comforting and delicious.
Stir in a creamy sauce and serve over pasta or rice for a meal that's sure to please everyone at the table.
Stuffed Bell Peppers
Stuffed bell peppers are a versatile vegan main dish that can be customized to suit your guests' tastes. Bell peppers are filled with a flavorful mixture of grains and vegetables, then baked until tender. The result is a colorful, delicious, and satisfying main course that can be served with a variety of side dishes.
Sweet Potato Fries
Sweet potato fries are a great hand held appetizer that can be personalized to your tastes and the tastes of your guests based on the vegan dipping options or toppings you provide. Accompanying sweet potato fries with vegan ranch, vegan bbq sauce, or guacamole is the perfect combination and offers a delicious finger food all your party guests will love. A true crowd pleaser for any social event and surprisingly easy to execute.
Vegan Side Dishes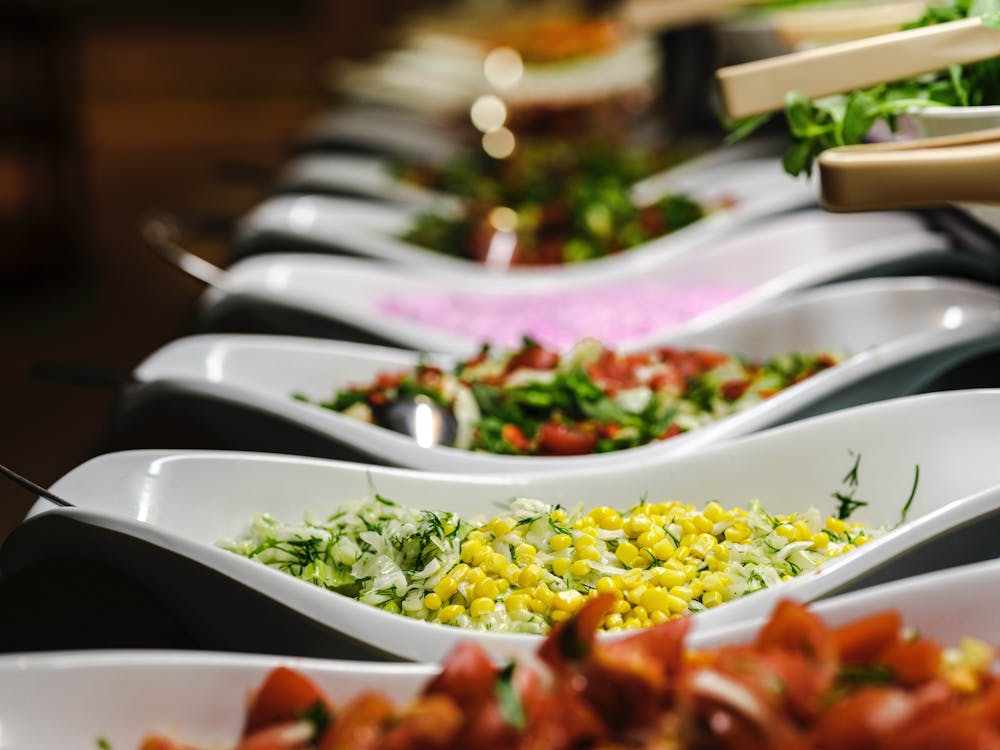 A vegan dinner party wouldn't be complete without a selection of scrumptious side dishes. Here are some vegan party food ideas to consider.
Garlic herb mashed potatoes
Green bean almondine
Quinoa tabbouleh salad
Plant-based chili or soup
These versatile sides will complement any main course and elevate your vegan dinner party to new heights.
Garlic Herb Mashed Potatoes
Creamy and flavorful, these garlic herb mashed potatoes are a vegan side dish that will have your guests coming back for seconds. Made with dairy-free butter and a medley of fresh herbs, these mashed potatoes are a delicious and comforting addition to any dinner party menu.
Serve alongside your favorite vegan main course for a satisfying and crowd-pleasing meal.
Green Bean Almondine
Simple yet elegant, green bean almondine is a vegan side dish that can elevate any meal. Fresh green beans are blanched and then sautéed with slivered almonds, garlic, and butter for a delightful combination of textures and flavors.
This dish is a perfect addition to your vegan dinner party menu and pairs beautifully with a variety of main courses.
Quinoa Tabbouleh Salad
Refreshing and nutritious, quinoa tabbouleh salad is a wonderful vegan side dish that combines the nutty flavor of quinoa with the brightness of fresh herbs and a zesty lemon dressing.
This salad is perfect for serving alongside grilled vegetables, hummus, or other vegan dishes, and its vibrant colors make it a visually appealing addition to your dinner party table.
Plant Based Chili or Soup
Incorporating a plant-based chili or soup into your dinner party menu adds warmth and comfort to your meal. Choose from an array of flavorful vegan chili recipes, like black bean and sweet potato chili, or opt for a delicious soup, such as a creamy tomato bisque or a hearty vegetable minestrone.
Either way, these dishes are sure to be a hit with your guests.
Vegan Desserts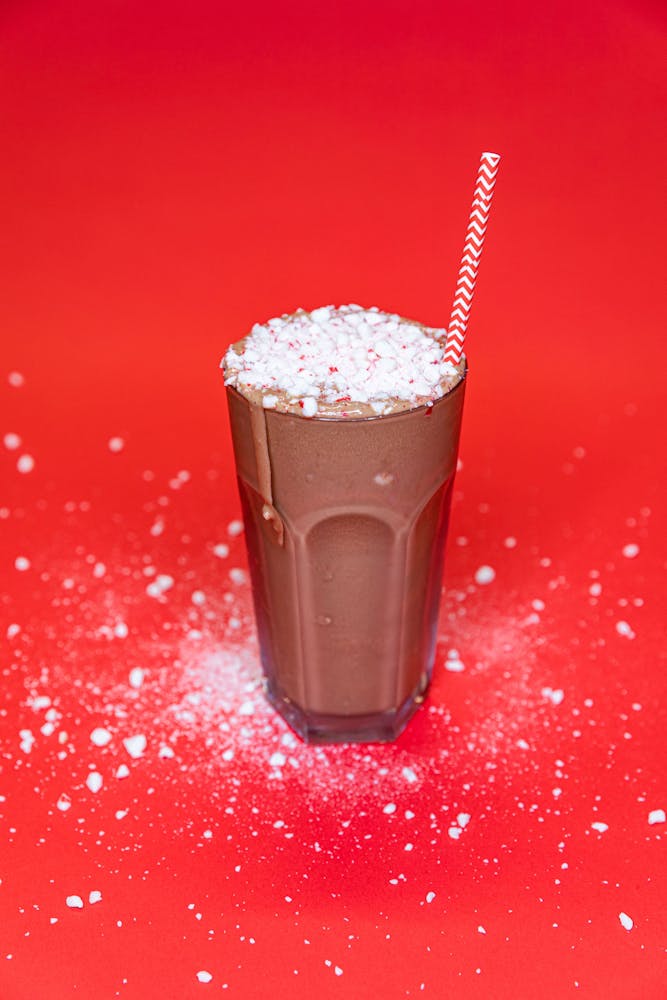 Conclude your vegan dinner party on a high with delectable vegan desserts, sure to please even the most particular sweet tooth. Some options include:
Rich chocolate avocado mousse
Tangy lemon berry cheesecake bars
Warm apple crisp
Creamy vegan milkshakes
These delectable treats will leave your guests raving about your dessert-making skills.
Impress your guests with these delicious vegan desserts that are sure to be a hit. Whether you like it or not, the answer is yes.
Chocolate Avocado Mousse
Indulge in a rich and creamy vegan dessert with this chocolate avocado mousse. Made with:
Ripe avocados
Cocoa powder
Maple syrup
Almond milk
Vanilla extract
This lime juice-infused mousse is both delicious and easy to prepare.
Serve chilled in individual dessert cups, and top with fresh fruit or vegan chocolate chips for an elegant and satisfying dessert.
Lemon Berry Cheesecake Bars
Treat your guests to a tangy and sweet vegan dessert with these lemon berry cheesecake bars. Featuring a dairy-free cheesecake filling and a fruity topping, these bars are a delightful way to end a vegan dinner party.
Prepare them in advance and serve chilled for a refreshing and crowd-pleasing dessert.
Apple Crisp
Warm and comforting, apple crisp is a vegan dessert that's perfect for fall and winter dinner parties. Made with spiced apples and a crispy oat topping, this dessert is both delicious and easy to prepare.
Serve warm with a scoop of vegan ice cream or a dollop of vegan whipped cream, and consider adding a touch of vegan sour cream for a dessert that's sure to impress.
Vegan Milkshakes
Delight your guests with delicious and creamy vegan milkshakes made with dairy-free ice cream and milk. Choose from a variety of flavors, such as chocolate, strawberry, or vanilla, and customize your milkshakes with vegan-friendly toppings like fruit, nuts, or chocolate chips.
Serve in tall glasses with colorful straws for a fun and refreshing dessert option.
Vegan Catering


If you're orchestrating a sizable vegan event or require professional help, vegan catering options are worth considering. There are many companies focusing on plant-based alternatives to traditional favorites. PLNT Burger offers a range of delicious and nutritious plant-based dishes available to be curated for any unique event whether it be an office lunch to celebrate an employee or a special celebration at home with family or friends. Whether you're having a small gathering or a massive conference at the office, PLNT Burger's vegan catering options take the hassle out of the planning of your event and your guests will be raving about the dishes far after the celebration ends.
Keep reading to discover tips for selecting the perfect vegan catering service, as well as ideas for incorporating vegan dishes into holiday and office catering menus.
Vegan Catering Options
In choosing a vegan catering service, consider the following:
Look for a company with a diverse range of vegan dishes
Choose a caterer with considerable experience in hosting vegan events
Ensure the caterer is willing to customize the menu to meet your needs and accommodate any dietary restrictions
Keep in mind that a diverse and appealing menu is key to the success of your vegan event, so be sure to discuss your vision with the caterer.
Holiday and Office Catering
Weaving vegan dishes into holiday and office catering menus exhibits consideration for your guests' dietary preferences. From tasty appetizers to satisfying main courses, there are countless vegan party food recipes that can be included in your catering menu.
A vegan-friendly menu guarantees a delightful and gratifying dining experience for all attendees at your event.
PLNT Burger to Cater your Next Vegan Event
Partner with PLNT Burger to cater your next vegan event for a truly unforgettable dining experience. Offering nutrient-dense vegan burgers that are both delicious and eco-friendly, PLNT Burger will help create a menu that satisfies various dietary needs and restrictions.
With their commitment to quality and flavor, your guests will be raving about the delicious party foods long after the event is over. If you think PLNT Burger is the perfect vegan catering company to bring your vegan dinner party to life, reach out and let's get started!
Summary
Hosting a vegan dinner party or event doesn't have to be a daunting task. With careful planning, a diverse menu, and a welcoming ambiance, you can create a memorable experience for all your guests. Whether you're preparing the dishes yourself or enlisting the help of a vegan catering service, there are countless delicious vegan party food recipes to choose from. The best part about vegan party food is that its shared with people you care about all while being a more sustainable choice for our planet. We think you can't get much better than that.
Frequently Asked Questions
What can I feed a vegan guest?
There are truly no limits when it comes to what to feed vegan guests at your next vegan dinner party. With so many options for meat alternatives as well as nutritious combinations to wow your guests. There is no shortage of unique and flavorful dishes for you to feed vegan guests.
What are some delicious vegan appetizers for a dinner party?
Treat your guests to stuffed mushrooms, vegan caprese salad, sweet potato fries, and roasted red pepper hummus for a delicious vegan appetizer spread!
Can I accommodate various dietary restrictions at my vegan dinner party?
Yes! Just reach out to your guests ahead of time and be sure to make any necessary adjustments to your recipes and menu! Giving yourself enough time will help you not be too overwhelmed and your guests will appreciate the effort!